Venues and halls
ACCO International
Kiev Pavilion Exhibition center "ACCO International" is located in a park area of the central part of the city, with convenient road junction.Has parking spaces and infrastructure.Thanks to modern technical equipment, exhibition pavilion "ACCO International" held any type of events: exhibitions, festivals, contests and fashion shows, conventions, conferences and symposiums, corporate parties and presentations, and shows.
Infrastructure Exhibition Centre:
-Indoor exhibition area - 2800 sq.m.
-Open area - 1800 sq.m.
Two conference rooms for 100 persons each.Equipment: multimedia projector, screen, microphone, ventilation system, Internet, telephone, air conditioning.The possibility of a separate entrance and the entrance directly from the hall
Restaurant at 3 rooms: dining room with fireplace, a beer bar, VIP hall.The possibility of a separate entrance and the entrance directly from the hall.Catering
-WC, a mobile wardrobe
-Offices
The exhibition hall is equipped with a ventilation system and air heating system utilities (electricity, water, sewage), general lighting, sound system.Wi-Fi and cable internet, telephone and facsimile.3 cargo door 3.8h3.27, 2.43h2.93 and 2.5h2.95.Ceiling height - 6 and 6,7 m.The front entrance.General security service.Facilities can be divided into mobile designs in separate rooms for simultaneous multiple events.Installation of exhibits by the exhibition equipment systems "OCTANORM".Service design, engineering and construction exhibition (ExpoService).Nearby hotels: Lybid, "Express," "Nick," "Academic", "Alexandria".The convenient location of the pavilion in the center of town, near the metro station: 10 min.walk from subway station "Shulyavska, 2 subway stops (5 min. ride on the subway) from the central station.
Exhibition Hall UCCI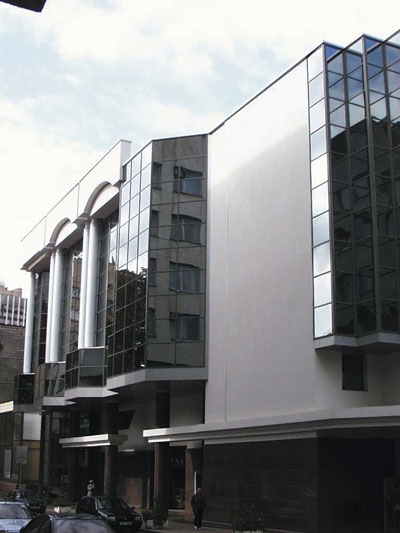 Commerce and Industry of Ukraine, in accordance with the law - non-state non-profit self-governing organization, which is on a voluntary basis legal entities and Ukrainian citizens registered as entrepreneurs as well as their associations.
Now members of the UCCI are about 9,000 companies and enterprises of different ownerships.
The main task of the House - to create favorable conditions for entrepreneurship, promote the comprehensive development of scientific-technical and trade relations between Ukrainian businessmen and foreign businessmen, representing members of the Chamber on economic activity in Ukraine and abroad.
UCCI performs its functions independently or through the regional chambers of commerce operating in the territory of the Autonomous Republic of Crimea, regions, cities of Kiev and Sevastopol, and through it created companies and other organizations, which it unites, and whose activities are coordinated.
Exhibition Hall UKRINTO
UkrISTEI is a major research institute in Ukraine on the problems of scientific-technical and economic information.According to the orders Goskominformnauki Ukraine UkrISTEI is:
the main scientific institution of the scientific and methodological, expert and information-analytical support of implementation of the Law of Ukraine "On state regulation of activities in the field of technology transfer;
the main scientific organization in the Goskominformnauki for the forecasting and analytical studies of scientific-technological and innovation;
center of the state registration of the research, development works and theses, which are carried out in Ukraine;
main organization Goskominformnauki in exhibition activities.
KyivExpoPlaza
Expocentre KyivExpoPlaza is the largest and most modern exhibition center in Ukraine.

It embodies the 10-year-old Ukrainian exhibition business experience combined with the latest European and American construction and engineering technologies.


The exhibition center "is best suited for international trade, industrial, scientific and technical exhibitions, fairs, presentations and other events.The leading organizers of exhibitions, "Kiev International Contract Fair", "Euroindex" and "Primus Ukraine, have already moved in KyivExpoPlaza their exhibitions - and it is the largest and most famous exhibitions in Ukraine!

Specifications The total area of 81,400 sq ft pavilion 3 Number of Indoor exhibition exhibition area of 28,000 sq ft pavilion 1 11 000 sq ft Pavilion 2 11,000 sq ft pavilion 3 6 000 sq ft Open exhi